There are no more items in your cart
Shipping

Free

Total

€0.00
 
PEDRO LOPES - About PEDRO LOPES saddles
All you have to know about PEDRO LOPES saddles (colors, sizes, etc...).
15 years experience
Secure payment
Fast shipping
Shipping: Relay Point 6€ - home delivery 8€ - FREE from 150€
to France, Belgium, Germany, Luxembourg and Netherlands. Other countries, see shipping page.
The Sellerie La Garrocha
is the EXCLUSIVE retailer
of Pedro Lopes brand in FRANCE.
About PEDRO LOPES saddles.
A premium handcraft customed work!

Pedro Lopes is a talented Portuguese craftsman saddler, descendant for three generations of harness, is specialized in the manufacture of equitation equipment. He devoted himself especially to the Portuguese saddle since 1995 because it is the main element of traditional Portuguese equestrian art, closely linked to the Lusitano horse.
Used since the XVIII century by the kings and princes, the saddle with barock origin has retained its main lines until today, finding along time passionate followers who have made of it their main frame.
Many riders chose the Portuguese saddle for comfort in long rides, which provides safety for beginners and young riders, for its balance in general practice of dressage of Lusitano horses, but also for other uses more extreme as in bullfighting on horses in arenas as it is tradition in Portugal.
Currently, from the base of Portuguese saddle, we saw the birth of various developments and models. You will find with Mr Pedro Lopes, a wide range of Portuguese saddles, with a lots of color combinations, using the best materials for optimum quality and durability, while maintaining comfort.
Due to the many options available, and because the saddles are custom made according to your desire, the manufacturing time is from approx. 2 to 4 months.
------------------------------------------------

Pedro Lopes saddles are built around 5 families:

- English dressage saddle: Luna - Altaïr - Elios

- Relvas Portuguese saddle dressage without pommel: Auris - Sorraia

- Relvas Portuguese dressage saddle with pommel: Lusitana - Ariana

- saddle with pommel and cantel: Clasica - Alba - San Joan

 - Hiking saddle: Elbrouz

---

Between the saddles of the same family,

the differences are of aesthetic order only

(flaps shape or flaps lining).



So between the Luna on one side and the Altaïr/Elios on the other,

the difference is in the flaps shape.

Half moon shape on the Luna / classic shape on the Altaïr/Elios.



Between Altaïr and Elios the difference is in the flaps lining.

Simple leather on the Altaïr / double leather on the Elios.



Between the Auris and the Sorraia the difference is in flaps lining.

Fully double leather on the Auris / sinmpe leather or Portuguese finish on the Sorraia.



Between Lusitana and Ariana the difference is in flaps shape.

Square on the Lusitana / round on the Ariana.



Between the Clasica and the Alba the difference is in tflaps shape.

Square on the Clasica / round on the Alba.
------------------------------------------------
Why choose a Pedro Lopes saddle?



Because it's choosing handcraft.
Work with a small craftsman who really loves his job.



Because it's choosing the guarantee of a quality saddle.
High quality raw materials, perfect finishes, incredible ratio value for money.



Because it's choosing an investment over the long term.
Pedro Lopes saddles are famous for their long life.



Because it's choosing the comfort for the horse and the rider.
Well thought out, well designed and well made saddles.



Because it's choosing the unique charm of a saddle made to your taste.
Wide choice of sizes, colors, materials, options and possible adaptation to the horse's back.



So, yes, it is also choosing patience,
because it is a manufacturing time of approximately 2 to 4 months.
But what are a few weeks of waiting compared to many years of happiness?



Because we are not on a basic ready to wear a little bit customizable.
We talk about 100% customized saddles.



We do not talk about chain manufacturing in a noisy factory.
We talk about handmade in a small quiet workshop.



We talk about passions.
Passion for leather. Passion for traditions.
Passion for riding. Passion for horses.



Finally, we do not talk anymore about saddles...
We talk about real works of art!
------------------------------------------------
Create your saddle according to your tastes
and choose your options & customizations!
Do not hesitate to contact us for more informations!
Options & customizations (varies according to the model):
ALL ALREADY INCLUDED IN THE SADDLE PRICE
Seat size: 34 to 46cm (16,5" to 18,5").
Withers width: 28 to 36 cm.
Tree: rigid or flexible.
Panels: latex or wool.
Buckles colors: golden or silver.
Type buckles: smooth or decorated.
Leather colors: many colors and combinations possible.
Type of leather: smooth or swede.
Piping color: many colors available.
Stitching colors: many colors possible.
Girth straps: short or long in V.
Knee pads: without or with / inside or outside / small, medium, big or long (according model)
Bates decorations: classic, sober, baroque, smooth, floral...
 Flap decorations: rafters, diamonds, floral or smooth leather.
Flap: bi-flap or mono-flap.
Logo: Pedro Lopes, personal or no logo.
---


TREE GUARANTED 5 YEARS in normal conditions of use.
 ---
Dowload the technical sheet of Pedro Lopes saddles,
with all options possible in pictures:
https://sellerie-iberique.com/fiche_technique_selles_lopes.pdf
---
---
AFTER RECEIPT OF YOUR ORDER
WE WILL SEND YOU AN ORDER FORM BY E-MAIL
RESUMING ALL POSSIBLE OPTIONS AND CUSTOMIZATIONS
FOR THE CHOSEN SADDLE.
YOU WILL SIMPLY HAVE TO COMPLETE IT AND RETURN US BY E-MAIL.

------------------------------------------------
SEAT SIZE
The rider hips size defines the seat size to choose:
Hips size

Less than 85 cm

85 to 95 cm

95 to 105 cm

105 to 120 cm

120 cm or more

ALBA / CLASICA / SANT JOAN

36

38

40

42

44

LUSITANA / ARIANA

34

36

38

40

42

ALTAIR / AURIS / ELBROUZ
ELIOS / LUNA / SORRAIA

38

40

42

44

46

Equivalence in inches

16,5"

(41,91cm)

17"

(43,18cm)

17,5"

(44,45cm)

18"

(45,72cm)

18,5"

(46,99cm)

------------------------------------------------
WITHERS WIDTH
28, 29, 30, 31, 32, 33, 34, 35 or 36 cm.

Take a flexible wire and grind well the wither, where the saddle have to be, vertical.
Draw the curve on paper (black curve) and extend in a straight line areas when panels are basing,
until the two straight lines intersect (blue lines).
Take 21cm from the point of intersection of these two blue lines,
then measure the distance between the two ends of the blue lines (red line).
The measure found in centimeters (red line) is the wide head you should choose.
You may also provide us the drawing of your horse withers,
and some pictures of your horse
so the saddler can make the saddle fit to your horse back,
the best way possible with pictures only.
Feel free to provide us any other measures and important et informations
that may help to make the saddle well fitted to your horse.
Size Pedro Lopes

 or Zaldi

Correspondence

Pedro Lopes

Correspondence

Zaldi

Easy Gullet

Wintec

Color

Wintec

28 cm

70°

76°

70,5 à 76,5º

Yellow, N

29 cm

75°

79,5°

76,5 à 82º

Green, MN

30 cm

80°

83,2°

31 cm

85°

87,7°

82 à 88,5°

Black, M

32 cm

90°

90,5°

88,5 à 94°

Blue, MW

33 cm

95°

95,2°

94 à 100°

Red, W

34 cm

100°

99,2°

35 cm

105°

104,6°

100 à 106°

White, XW

36 cm

110°

108,8°
------------------------------------------------
PANELS LENGTH:
------------------------------------------------

AVAILABLE LEATHER COLORS
Leather colors for saddle, bridles, breastplates, girths, leather stirrups, etc:
Smooth leather colors for seat, flaps, saddle covers...: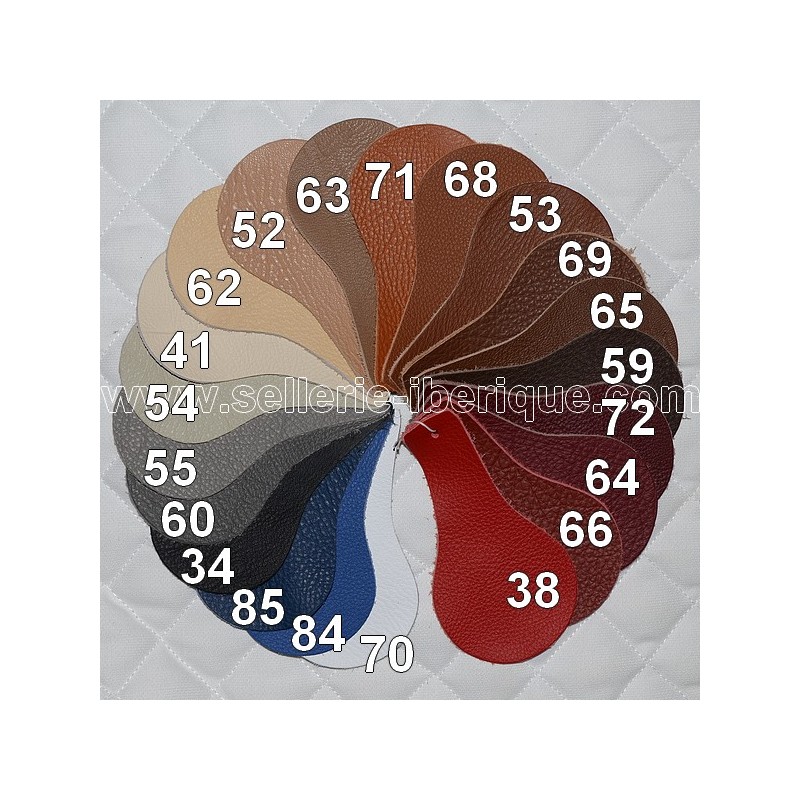 Swede leather colors for seat, flaps, saddles covers...: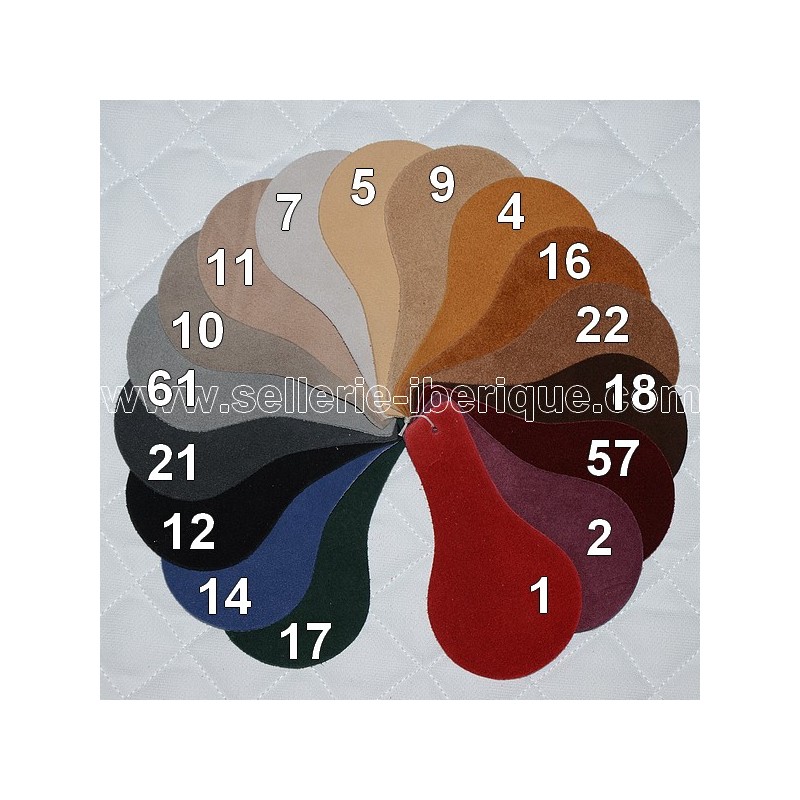 Overview of colors provided for information purpose only and non-contractual.
The preview can vary depending on your screen settings.
The actual colors may vary slightly according to the arrivals.
----------------------------------
WEIGHT OF PEDRO LOPES SADDLES:
Auris / Elbruz / Elios / Luna / Sorraia: approx. 7,5 to 8 kg
Ariana / Lusitana: approx. 8 to 8,5 kg
Alba / Clascia / Sant Joan: approx. 8,5 to 9,5 kg
Given weights are approximatives,
because the saddle weight varies according to the seat size and the options.
----------------------------------
NB:
*** No saddle can be taken back or exchanged ***
*** We do not propose try ***
Thank you for your understanding.
6 autres produits dans la même catégorie :