There are no more items in your cart
Shipping

Free

Total

€0.00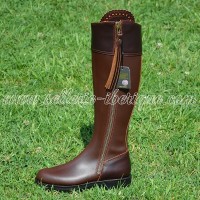 boots valverde del camino
Iberian boots handcrafted Valverde del Camino.
Valverde del Camino boots are made in Andalusia, in the small town of Valverde Del Camino. Valverde Del Camino, it's not a brand. It's a quality label. Label awarded only to manufacturers located in Valverde Del Camino, following a stringent quality control system for raw materials, the manufacturing process and the quality of finishes of the finished product.
Our shoemaker of course benefits from this label, guaranteeing you boots and boots of very high quality. These boots are basically designed for the harsh conditions of cattle transport in Andalucia (it's Cowboy's Santiag with Andalusian sauce!). They will therefore be tested against mud, moisture, drought, brambles, etc., etc.
The manufacturers of Valverde Del Camino have been able to evolve their range to more modern models, more elaborate, and more elegant, while preserving the traditional aspect, and making of course a point of honor to preserve the quality which has makes the reputation of their products around the world.
Very easy to maintain, a little regular glycerine soap, a little leather grease from time to time will be enough to guarantee their longevity. Leather both thick and robust, flexible and comfortable. Sewn sole.
Solid, comfortable and stylish boots for all seasons and all occasions!